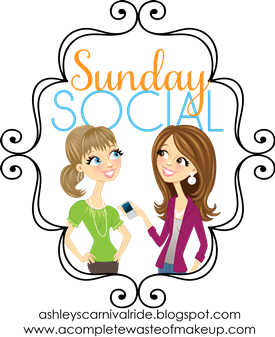 Hey guys! Thanks for stopping by our little blog for the third week of the Sunday Social Link-Up with Neely and Ashley!
I am a Texas native and am country through and through! So fore warning all my answers are country music based! I do love me some 80's Rock N' Roll though! ;)
What is your all-time favorite song?
I would have to say Neon Moon by Brooks & Dunn. There is nothing like listening to that song play in an old dance hall dancing a slow two-step with your man!
What is your favorite singer/band?
This is so hard! I will always have loyalty to my man George! That's George Strait if your not a big country fan. That man ages like fine wine! I also love Luke Bryan, Miranda Lambert, Blake Shelton, Gary Allen, Sara Evans, Reba, Clay Walker... the list goes on!
What is your theme song/song that best describes your life?
No doubt, Blue Clear Sky. This goes two ways; everything I have been through in my life has come out of the Blue Clear Sky, all the tragedy and even finding love again. I wasn't prepared to date or even fall in love again, it just happened, but I have this amazing man and family that I wouldn't trade for the world. :) Also, everything that comes out of my mouth comes out of no where! You never know what your going to get with me! Ha!
What songs put you in a good mood?
I love music! I don't need a tv for entertainment, just turn on the radio and I am easily put in a good mood!
What is your favorite road-trip music?
Anything up beat. I enjoy my 80's rock on the road, but compromise with my hubby with some Zac Brown.
What song are you embarrassed to admit you love?
I am not embarrassed by it, but my hubby is when I put on some of my 80's music. Jesse's Girl, Eye of the Tiger (Who's not in a good mood and ready to box after listening to that?) and Jungle Love get him everytime! I happen to LOVE them! :)