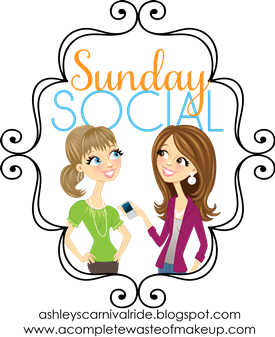 I'm linking up with Neely and Ashley again for this week's Sunday Social. Thanks for stopping by. Can't wait to read all your fall favorites!
1. What is your favorite Fall activity?
I love decorating my house with warm colors and the smell of spices in the fall. I love the inviting, warm and cozy look of fall decor!
2. Do you follow a football team? If so, which one and why?
Absolutely! Fightin' Texas Aggies of course. I'm a traditional gal, so I can't help but love that this school screams tradition. I did not attend A&M, but I love them like I did. :)
3. What is something fun about Fall in your area?
Besides Aggie Football, we really enjoy all the fall festivals and parties. Its so much fun to start off the holiday season with friends and family.
4. Fav Fall outfit staples?
I love scarfs! I think they can make a plain outfit look classy. And boots!
5. Thing you are looking forward to most about this coming Fall season?
Cooler weather, the new fall/winter latte and hot chocolate flavors at Starbucks and making lots of soups! Yummies like these just warm your soul!
6. Favorite Fall holiday? Traditions?
Thanksgiving. We don't really have any traditions. We just love spending it with family.
This is our family photo session from a couple of years back. :) I think it just screams fall fun!