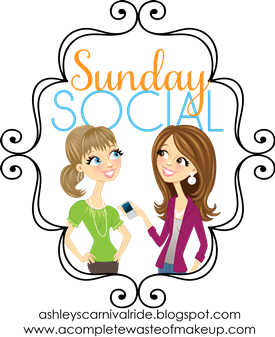 Welcome! I am linking up with Ashley and Neely again for the Sunday Social. Hope you join us!
Favorite movie of all time?
This is so hard for me to answer. I LOVE so many movies! If I had to pick and absolute favorite it would be Double Jeopardy. No matter how many times I watch it, it never gets old. My runner up movie is Something to Talk About.

Favorite movie quote?
"Are you addressing me?... Well lick it, put a stamp on it and mail it to someone who give a shit!" I love that quote from Something to Talk About. Its how I feel a lot of times.

Best movie to watch for a girls night in?
I would probably pick a comedy like Bridesmaids or something along those lines. Girls nights for me are usually full of lots of laughter and some adult beverages.

Best breakup movie?
Umm... The Breakup? I don't know, I am past that point in my life.

Favorite celeb eye candy?
Most definitely Matthew McConaugheyHEY!

Which movie stars closet would you want to raid?
I am so far from being up with fashion. I honestly think that a lot of what people wear in Hollywood is unrealistic for an everyday mom. A lot of times I'm not even sure what they are wearing. I am usually a t-shirt and jean or yoga pants kind of girl. : )