Howdy! Thanks for stopping by At Home With The Galow's. I couldn't pass up on this new Sunday Social link-up party. You should join in if you haven't already.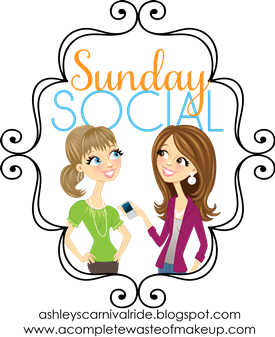 How did you come up with your blog name?
Well, we are the Galow's and this blog is about our family and home life so the name just stemmed from there. I would like to rename my blog, but can't think of one I love. So if you have any ideas, leave me a comment. You can read what I am looking for
here
.

What is your favorite thing about blogging?
I enjoy blogging about my family and the happenings in our life. I plan on printing this blog for my kids to have a memory book. I also enjoy using this blog as an outlet for myself.

What is one thing you have discovered because of blogging and now cant live without?
Definitely my
Eric Condren Life Planner
! I have told so many friends how much I love this planner. If you like to be organized and keep good records of your day, this is THE planner for you! It is worth every single penny and I will never own another type of planner!

Facebook or Twitter? and why?
Twitter! I use to spend a lot of time on Facebook, but it has become full of titty babies and too much drama. Yes, I just said titty babies. Haha! Twitter just seems a bit more grown up and sophisticated. lol!

If one celeb read your blog who would you want it to be?
I would have to say
The Pioneer Woman
. I love her sarcastic humor and she has some pretty awesome recipes!

What is something you want people to know about your blog?
This blog is just a hodgepodge of me and the happenings of my family. It's a constant work in progress. I love to see new followers, especially since I had to start my blog over recently. (Explanation
here
.) You can find out more about me and my family by clicking about me at the top of the page.